Dog Scouts Info
Dog Scouts
Dog Scouts!? What the heck is Dog Scouts?

Glad you asked!
Dog Scouts of America (DSA)
Dog Scouts of America is very similar to other scouting organizations, except the DOGS are the scouts!

DSA is a non-profit organization that is based in Michigan and is spreading nationwide through troops in various areas. It promotes responsible pet ownership, lots of fun activities for people and their dogs, education of dog owners and the general public on many topics, and fund raising or other assistance for animal shelters, breed rescues, and other charities.

They offer week long camps in the summer for people and their dogs to learn and demonstrate many different skills for which they can earn badges. At this time, over 70 different badges are offered. Some of the activities for which badges can be earned include: Water Rescue, Flyball, Agility, Therapy dog, Hiking & Backpacking, Herding, Search & Rescue, Carting, Scent Discrimination, 'Naked Dog' Obedience, Frisbee, Tricks, and Community Service, just to name a few. Click on the picture to the left to go to the DSA website (www.dogscouts.org)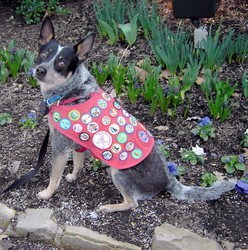 Troop 107
Our local troop is the Buckeye Blue Grass Brigade otherwise known as the BBGB's. We serve the Cincinnati Ohio tri-state area (Ohio/Ky/Ind.). It was started in November of 2000 by Chris Puls and Sheila Bromwell. (Sheila has since moved back to Michigan) Chris has over 20 years of experience with dog training, competeing, behavior counciling, and loves working with animals. Our troop is one of the largest and most active in the international organization!
Troop activities include week-end walks at local parks, camping trips (in cabins), fund raisers, pet therapy promotion, public education, fun and educational monthly meetings and much more! Our goal is to have fun! We also strive to teach people how to make their pets a valued, well behaved family member and promote canine good citizens with responsible owners. If you want to join us, click on the picture of my dogs Coyote and Bear below. That will take you to our Troop web site (www.DogScoutTroop107.com). You can also email me for more info, or to join our troop.