Coyote's favorite activities
Here are photos of just a few of Coyote's favorite activities. He has many more, but I just don't have good photos of them.
Frisbee!
Coyote competes in a skyhounds Frisbee Competition and gets 1st place! 2004 St Helen, MI. Due to his lack of vision, he doesn't compete anymore. But he still enjoys helping Buster chase a frisbee and playing tug with it on the way back to me at home.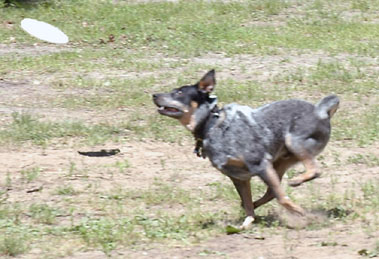 Painting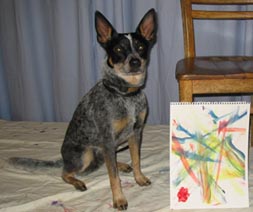 Using positive training and shaping, Coyote learned to use his paw to paint! This was a picture he painted as a demo at the Dog Days of Wisconsin camp titled "fireworks".
Go to ground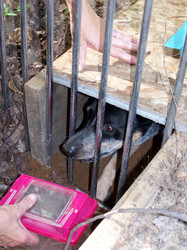 In this sport, dogs navigate man-made underground tunnels (dirt floor, but wooden walls and roof) to get to the correct ending of the tunnel to find a caged rat. Once at the end, the dog needs to "work the rat" by barking, digging, biting at the bars, etc. to show they have the tenacity to go after a real rat. The sport was developed for terriers, but at Dog Scout camp, any dog can try it! Coyote LOVES this sport! He starts screaming in excitement when we get near the tunnels. The top (where the hand is) comes off to get the dog out. At home, any mice that might get into the yard or house are not safe from him, regardless of his eye sight!
Kayaking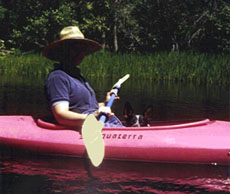 Coyote has taken several river trips with me. This is from a kayak trip we took after Dog Scout camp on the Au Sable river in Michigan. Very beautiful!
Coyote loves to kayak and watch ducks and other wildlife float by. Buster and Bear also enjoy these trips, but I can only take them one at a time :-)
Fundraising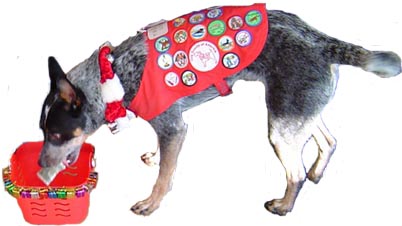 Coyote raises money for various charities by taking donations from people's hand and putting them into a bucket. This picture was from 2003 bell ringing for the salvation army. In just an hour and a half, we raised over seventy dollars! Our bell ringing with the help of other troop members in 2004 raised two hundred and sixty five dollars in just three hours! When raising money for the police K-9's we have raised over $500 in just 4 hours! That was with Bear also taking donations and other troop dogs helping. In 2007, Bear and Coyote raised $305 in about 3.5 hours for the Salvation Army. In his panhandling career, Coyote has raised thousands of dollars for many different charities. He has helped police K-9's get bullet proof vests, search and rescue dogs get cooling beds and raised money for salvation Army, DSA and the troop. He is mostly retired now, letting Bear and Dazzle take the reins.
Backpacking
Taken on a small foot bridge over a creek while we were on a hike at the Dog Days of Wisconsin camp. Coyote loved the hikes we used to take in the woods. Due to his owner's growing lack of mobility and now his failing eye sight, the hikes are much shorter now and without his backpack.
Performing many tricks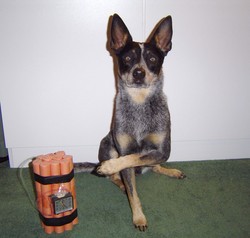 Here Coyote is using his response to the cue "who farted" (in which he usually points to his brother) and instead playing the part of a bomb dog pointing out the target :-) At last count, he responds to over 40 cues! He has several tricks, like say your prayers, wipe your face, take a bow, spin, touch (has many applications), and he even plays the piano with his nose!